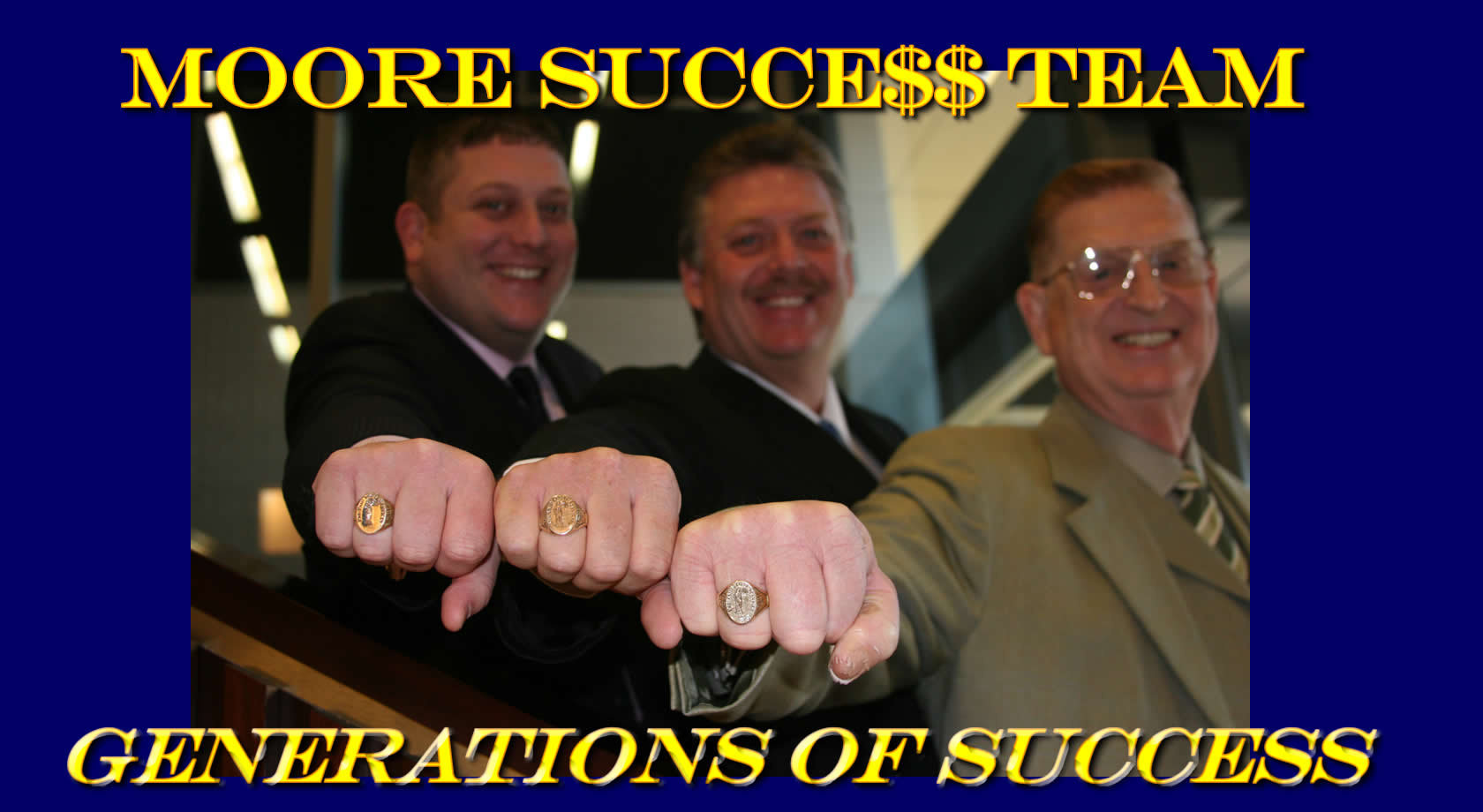 The Moore Family Legacy
A Never-Say-Die, Rags-To-Riches Success Story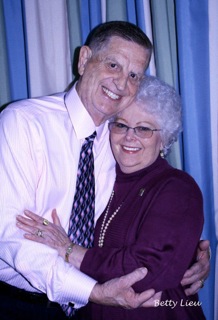 Kennith & Shirlene Moore
Ken earned his $500,000 ring in 1998, the first year Pre-Paid Legal awarded the prestegious symbol to its sales Associates. Ken has been the Executive Vice President of Marketing and also the recipient of the Friends of Pre-Paid Legal award as well as the Chairman's Award.  Ken is a member of the Millionaire Club and a Platinum 3 Jacket Earner. Ken has been with LegalShield since 1984.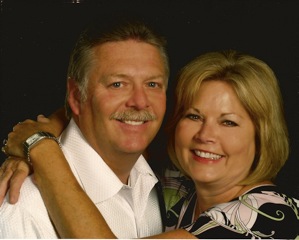 Randy & Pat Moore
Randy earned his $100,000 ring in 1999.
Randy has been an Associate since 1984 and is a member of the Millionaire Club.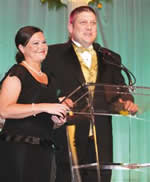 Jeremy & Stephanie Moore
Jeremy is a Platinum III Jacket earner as well as a $250,000 Ring Earner and member of the Millionaire Club.
The Moore Family Legacy
A Never-Say-Die, Rags-To-Riches Success Story
Kennith Moore is a ground floor kind of guy. He has started businesses from scratch and watched them slowly die, only to get right back up on the horse that tossed him. His entrepreneurial spirit will never go quietly.
On any given morning, you will find him at his usual table in the Eagle's View Restaurant sipping coffee and visiting with everyone that walks by. These days, he knows how lucky he is to be there. The Eagle's View Restaurant, you see, is smack dab in the middle of the Pre-Paid Legal Services, Inc. headquarters. It is a company that Moore has played a vital role in building over the past two decades as one of the most successful independent associates in the company's history.
He's now Pre-Paid Legal's Executive Vice President, and has been honored with two of the company's most prestigious awards. It's been a long road to get there, though. After shutting down his butcher shop and slaughterhouse businesses, and with little or nothing to show for it, Moore was unsure what would come next. With few options, he grabbed onto a business opportunity that he had been ignoring for years.
"Before, I was too busy going broke to listen," Moore said with a grin. Once he got started, however, there was no stopping. Now, more than 20 years later, Moore is happy that he seized upon the opportunity, even if he had to hit bottom first. He is proud to have been a part of the rapid growth of Pre-Paid Legal, and, indeed, Moore has been one of the people that Pre-Paid Legal CEO and founder Harland Stonecipher counted on along the way.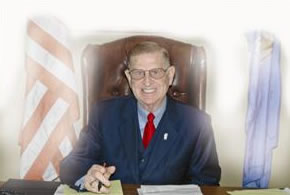 "Kennith Moore is a real life example of 'only in America' and the free enterprise system at work at its best," Stonecipher said. "He is truly a rags to riches story."
Ken and Shirlene became Pre-Paid Associates in 1984. "At that time, we only worked the business part-time," Ken says. "We then realized the potential that was with Pre-Paid Legal." "Our first full-time six months with Pre-Paid Legal, we made $48,600 marketing a $10 membership," Ken remembers.
"That is the least amount we have ever made in any six month period with Pre-Paid Legal. Needless to say, we have been excited ever since!" In fact, Ken says, "Everyday, I still get excited about Pre-Paid Legal. Each time I hear the product presentation or the opportunity, I want to sign up all over again!"
Today Kennith Moore's income is in excess of $500,000 per year, an income he earned the old-fashioned way, not based on his education, social status, or where he was born, but earned by persistency (not enough sense to know when to quit) and belief in the concept of "Justice for All!"
"By helping others become successful, we have become successful," said Ken. The Moores advise Associates to ask prospects if, in their present job, they can be financially secure in five years. "When they say no," Ken reveals, "simply say, 'Mr. Prospect, if I can show you that opportunity, then you owe it to yourself and your family to allow me 30 minutes of your time. Don't you?'"
Ken and Shirlene Moore are living out their dreams in the capitol of Pre-Paid Legal — Ada, Oklahoma. In 1999, they reached the level of Platinum 4 Executive Directors.
Ask Moore about being able to enjoy his colleagues and a cup of coffee in the company's restaurant and he beams with pride. "I have to give Mr. Stonecipher and Wilburn Smith all the credit in the world," Moore said. "They've been my mentors on this journey and I owe them a lot."
This deep gratitude towards others is not unique from a man who, not long ago, was released from the hospital for what he believes was his 29th stay. Forgive him if he's lost count.
"They've lost me twice on the operating table, but I guess God isn't done using me just yet," Moore said. "If it wasn't for Him, some of the best surgeons around, and having something to come and do everyday, I don't think I'd still be here."
That same boot leather toughness has also served him well professionally. With a resume that includes having several of his own businesses thrive and then decline, Moore never let past entrepreneurial setbacks keep him from continuing to achieve.
"Right now, I couldn't be any happier," Moore said. "I get to come do something I love, with people that love me. I've been partners in family, life and business with my wife Shirlene for more than 50 years now, and because Pre-Paid is a company with such honor and integrity, my son Randy and his son have now started with us full time." The Moore family is the first threegeneration family to wear Pre-Paid Legal's status symbol of success – the six-figure income ring.
"It's a great feeling of honor and pride," said Ken Moore. "I'm proud of what accomplishments we've had as a team and as a family. We expect to accomplish much more with our fourth generation." Ken's son, Randy stated, "I'm extremely proud to be a part of the Pre-Paid Legal family, and I'm even more proud to be a part of continuing this tradition that my father began and pass it on to my son and grandson."
And, Randy's son, Jeremy added, "I think it speaks to the integrity of Pre-Paid Legal and the power of the Pre-Paid Legal product to be the third generation to earn a six-figure income with this company." Jeremy's young son, Braden, is an honorary Pre-Paid Legal Associate and is ready to continue in his family's tradition when the time comes.
A living example of how to fight through adversity, whether from failed business ventures or the many health challenges, Ken Moore continues to overcome. He is a tribute to the never-say-die Oklahoma spirit. Now embarking on his seventh decade, and far from the retiring sort, most mornings you can find him in his coat and tie sipping coffee before 7 a.m. at his table in the Eagle's View Restaurant, a few steps around the corner from his office, fittingly located on the ground floor of the Home Office building.